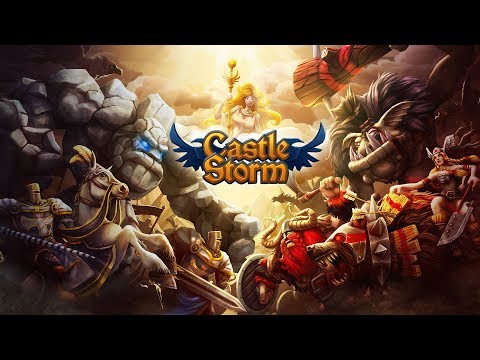 "No one pays notice to tales of yore, Gathering clouds bring rumors of war…"
On August 16, CastleStorm serves up a hilarious mix of medieval warfare, 2D physics-based destruction, and tower defense, with some melee brawler action thrown in!
The Nintendo Switch version will give you the freedom to destroy the castle of your foes any way you want with touch controls, motion controls for the camera and refined HD Rumble. Go on a quest as Ser Gareth or Freia in the Campaign, and live through the funny and epic story of CastleStorm. Build up your castle to fit your playstyle by placing your troop and bonus rooms to strategic locations in the Castle Builder – but don't forget to make it look good too!
Take your designs to the big leagues with 1v1 Multiplayer where you can test your aim against real players and learn the hard way why you don't place your Paladins Quarter above the gate! You can team up with other players online in co-op Survival and Hero Survival where you'll help each other against waves of enemies. If you'd like to play with your buddies but only have the one Switch you can enjoy all these modes locally by using a Joy-Con each!
Take up arms, the Teardrop Gems are at stake!