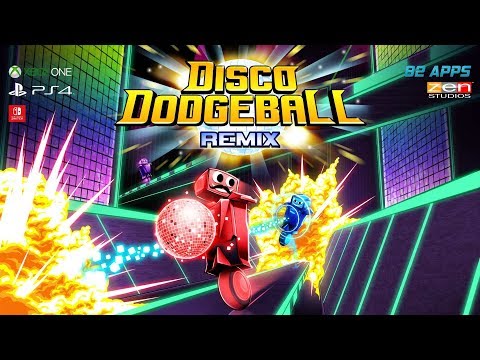 Get ready for your new favorite sport-type-thing – classic dodgeball with a killer arena-style FPS twist – as Disco Dodgeball Remix is coming to PlayStation 4, Xbox One and Nintendo Switch this spring! We are happy to announce that the second indie PC title we're bringing to consoles as part of our new publishing initiative is this ridiculous awesomeness, originally self-published and solely developed by Erik Asmussen, whose development studio is known as 82 Apps.
The PC version of this game, titled Robot Roller-Derby Disco Dodgeball, has earned itself a lot of attention, from influential gaming YouTubers to a continuously growing fan base. Markiplier described it as "pure, unadulterated fun." Also, check out what others like JackSepticEye, TotalBiscuit, and GoldGloveTV said about it – and that was just the original PC version.
With Disco Dodgeball Remix, you get the same dodgeball-meets-FPS game with the added ability to customize your character! Play your way to earn new wacky and fun customizable items. With more than 70 customizations to choose from, you can transform yourself into the grooviest robot in the disco dodgeball arena.
Along with the crazy customizations, Disco Dodgeball Remix is complete with a revamped user interface, a level-up game progression, and even HD Rumble support and motion control for Switch players.
We are excited to be partnered with Erik, and we can't wait to get this game into the hands of console gamers! Stay tuned for more details on the release of Disco Dodgeball Remix.