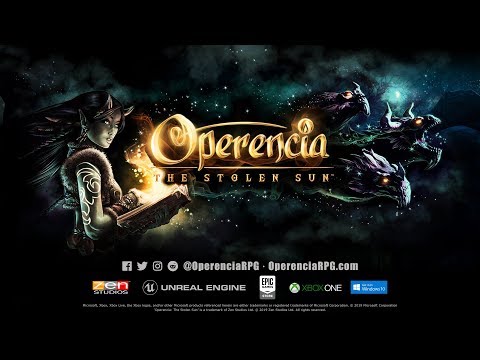 We are happy to finally show you the single-largest production of our 15-year history! Operencia: The Stolen Sun is a role-playing game that breathes new life into the classic first-person dungeon-crawler genre while also unifying Central European folklore and legends – most of which have never been depicted in video games – into one cohesive universe. It will be available in 2019 on Steam, with other platforms to be announced in the future.
The land of Operencia is an unconventional fantasy world where history meets legend – a faraway land referenced in countless Central European folktales told for hundreds of years. For the first time ever, these stories – and many others spanning the region – all occur in the context of one single universe. Adding further depth, real-life historical figures populate the game, if in a more legendary form, such as King Attila, as well as the Seven Chieftains of the Magyars. You'll be able to explore locations from well-known fairytale settings (e.g., castles, tombs and forests) and fantastical versions of storied landmarks anyone can physically visit today, such as the fortresses of Deva and Bálványos.
We have gone to great lengths to ensure that everything in Operencia: The Stolen Sun feels familiar to RPG players, yet still modern and novel. Through a classic tile-based movement system, you'll explore the far reaches of the land, engaging in strategic turn-based battles at every turn. The entire quest to free the abducted Sun King of Hungarian mythology, Napkirály – thereby saving Operencia from endless days of night – comes rife with malevolent monsters, devious traps and mind-bending puzzles. Perhaps even a three-headed dragon…
A team of avid role-playing gamers within Zen wanted to create a modernized dungeon crawler with Unreal 4 graphics and an immersive story based on content rarely seen in video games – including stories and characters they grew up with living here in Hungary that most people in other parts of the world have yet to hear…at least not yet. Operencia is almost done now, and we can't wait for everyone to start adventuring.