Hello, Pinball Wizards!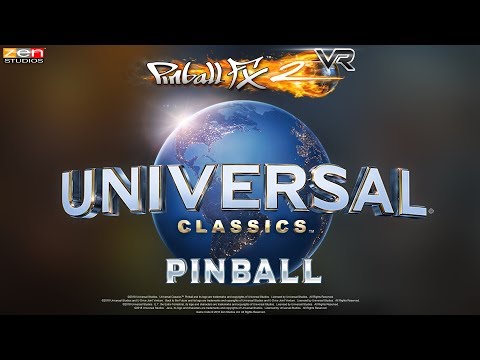 You've probably played Universal Classics™ Pinball for Pinball FX3 by now – but we're not done with it yet! It's time for our tables based on E.T. the Extra-Terrestrial, Jaws and Back to the Future to make the jump to virtual reality. Starting today, Universal Classics Pinball is available on Pinball FX2 VR for Oculus Rift, Oculus Go and Gear VR.
One of our favorite things about the tables is the new sense of immersion they present, like placing the tables in the forest behind Elliot's house, a beach villa looking out to an Amity Island sunset, and Hill Valley's historic town square. VR also allows for additional embellishments we love to create, like a curious E.T. peeking at your table to see how you're doing, a shark fin circling around your Jaws table, and the classic DeLorean flashing across the Back to the Future table. It's also pretty cool that these are the first tables based on movies that we've ever done that are now available in VR.
Everyone seemed to really love what we did with the non-VR version of Universal Classics Pinball (we're especially flattered by the 90 on Metacritic for the Xbox One version). The Pinball FX2 VR version features every bit of film-adapting gameplay that resonated so well with critics and fans alike, from E.T. collecting candy in a cornfield to Marty McFly showcasing his skills at arcade shooting and players braving the open waters in a shark cage for an exciting multi-ball mode.
Universal Classics Pinball is live NOW – go check it out!