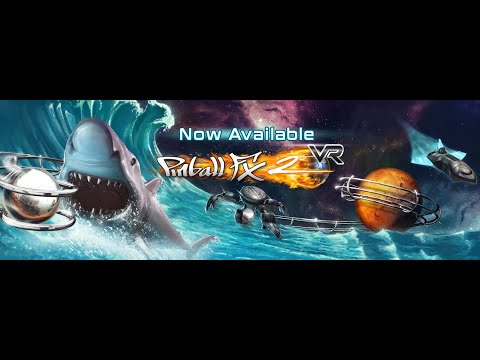 Hello there, Pinball Wizards!
Pinball FX2 VR is now available on the Oculus Quest! We've noticed a lot of you asking for it, and we're happy to deliver this wonderful VR experience to Oculus' exciting new platform.
HERE!
The game comes with an Oculus Rift cross-buy feature, which means you have full access to the game and its DLC packs whether you purchased them for Oculus Quest or Oculus Rift..
The game comes with three original tables, with the DLC packs (Season 1 Pack, The Walking Dead, Universal Classics™ Pinball) available through in-app purchases.
-
Base Game
: Dive deep into the ocean, surrounded by creatures of the depths in "Secrets of the Deep," embark on a journey in a classical fantasy setting, accompanied by a friendly knight in "Epic Quest," or lead humanity to a new frontier and help mankind explore "Mars"!
-
Season 1 Pack
: Experience five fan-favorite tables recreated for virtual reality! Storm the gates of your enemy's castle with Sir Gareth on the "CastleStorm" table, take part in a true western showdown in "Wild West Rampage," achieve groundbreaking scientific results in "BioLab," investigate a series of supernatural events in "Paranormal," and repel the invading alien forces in "Earth Defense"!
-
Universal Classics™ Pinball
: Travel through the many eras of Hill Valley with the DeLorean and help Marty and Doc fix the space-time continuum in the Back to the Future™, take down the terrifying great white threatening the shores of Amity Island in Jaws™ , or experience the heartwarming story of a friendly alien and his friend Elliott on the E.T. the Extraterrestrial™!
-
The Walking Dead
: Take a tour of the most iconic locations from Telltale's classic adventure game, including the St. John's Dairy Farm, Traveller Motel, Bell Tower, RV and more!
See you on the leaderboards!