Let me start off by saying I love Zen pinball. I picked it up last summer and have been addicted ever since. My goal is to attain 100% trophy completion and I'm only
7 trophies away
(though they are 7 hardest trophies
).
After playing every single table on PS4, I noticed a trend that really worries me. Virtually all recently released tables have slingshot physics that seem very unfair. On older tables, if the ball strikes a slingshot, it may bounce a little, sometimes going back and forth between the two slingshots, but it rarely, if ever ends up going in the outlane. Not so with the newer tables. The first time I saw this was on The Walking Dead table. When the ball would strike a slingshot, it would get violently get hit back and forth and often end up draining via outlanes.
Deadpool is another example. It's to the point I dread even touching that table to get the final trophy, because it's frustrating as hell. I understand punishing the player for making imprecise shots (like V12 table, that would drain the ball if you just looked at it wrong). But I should not be punished for having the ball hit the slingshot. Case in point, watch my capture below, where I was earning the single trophy on the Wild West Rampage table. That's a two minute game, where I drain twice due to slingshot bounces (@1:15 and @1:30):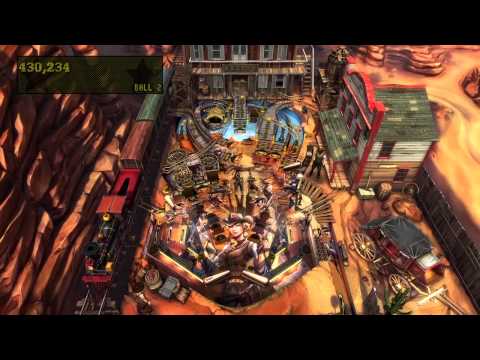 I don't think I'm the only one that would like to see the slingshot power toned down in the future tables. I would love to play more of the Walking Dead table for example, but the crazy slingshots are an immediate turnoff. As it is, I just earn the trophy in those cases, and move on thanking god I never have to touch the table again.