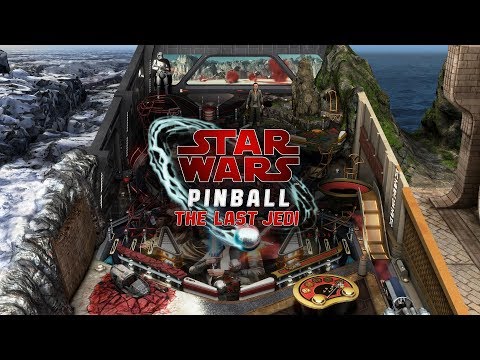 We are excited to announce that our newest Pinball FX3 table release is one you can add to your Star Wars Pinball collection! Featuring "Star Wars: The Last Jedi" and "Star Wars: Ahch-To Island," the Star Wars™ Pinball: The Last Jedi™ pack is coming to PS4, Xbox One, Windows 10, Steam, iOS, Mac and Android on April 17, 2018.
Star Wars: The Last Jedi – Survive a First Order onslaught as the Resistance, train Rey in the ways of the Force on Ahch-To, and defend Finn from Captain Phasma, blasting away at stormtroopers as BB-8. Jump a ramp to shoot down TIE fighters, fight off Kylo Ren's TIE Silencer, and teach Rey that the Force isn't just moving rocks!
Star Wars: Ahch-To Island – Luke Skywalker (reluctantly) welcomes you to his secluded hideaway. Train Rey in the ways of the Force, convince Luke to join the Resistance and help Chewbacca deal with some Porg problems. You'll even get a taste of everyday life on the island as Luke, including reminiscing about his Rebellion days through R2-D2's hologram projections. And when the lights go off during a multiball mode? Let's just hope the Force is with you…
As we celebrate five years of making Star Wars Pinball tables—soon to total 16!—we are reminded of your continued support over the years. Thank you!