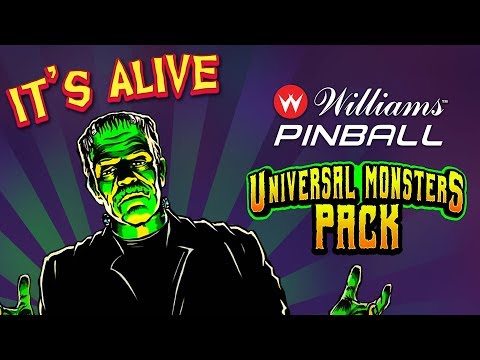 A Full Moon rises and awakens The Wolf Man, Creature from the Black Lagoon emerges from the depths, Frankenstein and his Bride are alive, The Mummy is haunting the pyramids, and Dracula is back from his coffin! Williams Pinball™: Universal Monsters Pack is available now on:
The Monster Bash pinball table was released in July 1998, featuring several classic Universal Monsters forming a rock band. It became one of the highest-rated machines of all time, not surprisingly, as it has a superb layout, mad rules and insanely stackable modes.
Released in 1992, the Creature from the Black Lagoon pinball table got its theme from the classic movie of the same title, a film shot in 3D in the early 1950s. The table is set up as a drive-in cinema typical of the era, with features like a snack bar, a rude driver whose van blocks the screen, and of course the Creature, lurking in his lagoon.
Take on the beautiful mix of pinball wizardry and nostalgia in these classic tables, now available on PlayStation 4 (November 5 in the US store), Xbox One & Windows 10, Steam, Nintendo Switch, and Mac. Also available on iOS App Store, and Google Play.